Booking Portal
Get Bookings When You Want To Through Our Self Service Portal That Is Convenient To Use
Our booking management portal simplifies the process of reserving sports facilities, providing you with an easy and efficient way
to secure your preferred venue and enjoy your favorite activities hassle-free.
Make The Booking Page Look and Feel Like you
Tailor your booking page, showcasing your unique offerings. Highlight what makes your facilities stand out.
Support Multiple Offerings
Easily manage and book facilities for multiple sports, providing a one-stop solution for all sports needs.
Allow Customers To Reserve Multiple Offerings In One Shot
simplify the reservation process by allowing multiple venue selections at once.
Easy To Pick Slot Picker
Simplify your slot selection with this easy-to-use picker.
✶
Facility Management
Manage Multiple Venues & courts with Maximum Efficiency and Minimum Confusion
Customize when your venue and courts are open, manage booking times and cancellations,
display available amenities, and offer combo courts for added convenience.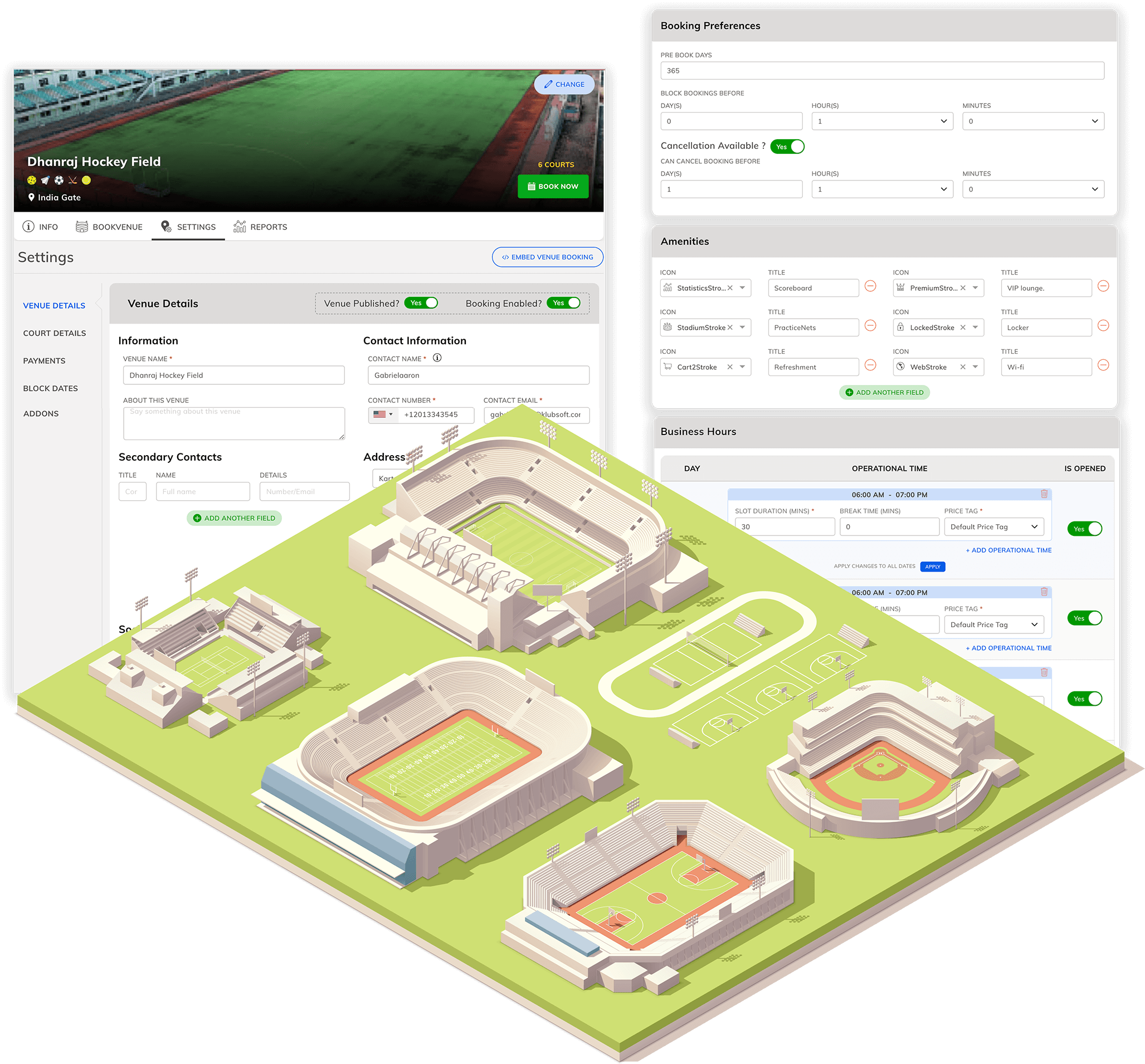 Set up Business Hours for the Venue and Courts
Customize the operating hours for our venue and courts to ensure availability aligns perfectly with your schedule, making booking and access a breeze.
Control Bookings Periods and Cancellation
Take control of your booking periods and cancellation policies, tailoring them to suit your specific needs and ensuring a seamless and flexible reservation experience for your guests.
Show Amennities
Display your extensive list of amenities, designed to enhance your stay and provide unmatched comfort and convenience.
Combo Courts
Make your courts even more versatile by combining them into combo courts.
✶
Collect Offline or Online Payments or both
Configure Pricing Plans for Public, Members based on Membership Plans and Prime Time Pricing
set up pricing plans that cater to both the public and members, offering exclusive rates based on membership tiers, while optimizing revenue
during prime time hours with dynamic pricing strategies.
Setup Pricing for Special Days
Tailor your pricing for special occasions and holidays, ensuring flexibility and profitability during peak times. Create memorable experiences for your guests with holiday-themed rates and promotions.
Add add on purchases
Enhance your experience with our convenient add-on purchases. Elevate your booking with extras like catering, equipment rentals, or VIP services, all at your fingertips for a truly customized and memorable visit.
Invoice generated
Your invoice has been successfully generated and is ready for review. It includes a detailed breakdown of charges and payment options for your convenience.
✶
Dashboard & Reports
Court reservations ought to be simple now.
Managing your court reservations is simple with our cutting-edge interface. Without having to make a call to the front desk or show up in person, players may swiftly and conveniently book online whenever it is convenient for them. Drag and drop interface with complete customizability, including categories and even custom fields. Get rid of the whiteboard and manual court sheets. Get what you want, when you manage your courts within Klubsoft.
Whats Coming
Stay connected to be among the first to experience what's coming next.
Court Utilization
Maximize court availability and efficiently manage bookings, ensuring every player gets their time on the court while enhancing your facility's revenue.
Export Bookings and Invoices
Seamlessly export bookings and invoices to streamline your financial and operational processes, ensuring accurate and efficient management of your business data.
✶
From a single location, manage reservations for several venues and courts.